Published December 12, 2019
Everybody needs a role model, right? Individuals succeed primarily because they pick someone they admire, follow their example, and eventually become role models themselves.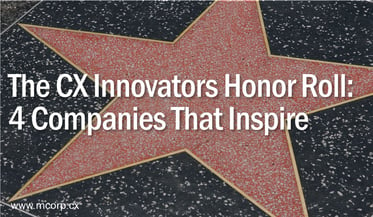 But here's the thing: businesses need role models, too. Industries evolve constantly, and this is definitely true of customer experience (CX). There are thousands of companies, each working to design, deliver and leverage its own approach to CX. Each trying to create best practices in a discipline that is still evolving but has proven highly impactful on business success.
Unsurprisingly, not all of the strategies being attempted are effective—with the resulting disappointing CX manifesting itself in a number of ways, from dissatisfied customers to mediocre (or worse, nonexistent) ROI. Thankfully, there are plenty of companies whose CX strategies are excellent.
In a recent webinar, we asked three CX innovators and technology experts—Michel Feaster (Founder of Usermind), Kevin O'Dell (Chief Technology Officer at Stratifyd), and Tim Lavin (President and CEO of Zacoustic)—to briefly discuss those 'top-of-mind' companies they admire for best-practice CX.
With that, here are four companies that made the CX Innovator's Honor Roll, and why.
1. Apple (Michel)
Apple doesn't just sell cutting-edge phones and laptops. They sell a culture; their customers are proud to own an Apple product.
For Michel, Apple's CX wins respect because they've created a journey when you buy a phone, laptop, or tablet. Just look at all the iPhone unboxing videos on YouTube; even the package creates an impact with customers.
Apple doesn't stop there, either. Their retail locations have also revolutionized the tech buying experience. You can go into any location and actually experience their product before a purchase. These elements – and others – combine to create winning CX for Apple.
2. Essilor (Tim)
Essilor may not be as well-known as Apple, but odds are you've already interacted with Essilor without knowing it. They're the company behind eyecare giants such as RayBan, Lenscrafters, and more. They boast more than 70% market share and have established a culture of customer excellence in the process. They live by their mantra: "improving lives by improving sight."
But that's not the biggest deal for Tim. What truly sets Essilor apart is how they give back to the community. Working closely with their vendors, Essilor innovates methods to get glasses and eyewear to underprivileged kids around the world. So when you buy Essilor eyewear, you're not just buying glasses. You're helping kids get them, too. And that experience matters – to all their customers, from actors and athletes to the kids Essilor helps.
3. Ally Bank (Kevin)
Kevin's pick for an exemplary CX model is Ally Bank. Ally wins that honor simply because they lead the digital banking experience. In fact, both Kiplinger's Personal Finance and MONEY Magazine ranked Ally Bank as the best online bank. Newsweek also ranked Ally as the top bank for customer service.
Their customer-centered online approach ultimately won customers over. After all, why go to the bank in person when you can handle your affairs at your convenience? That ease of use makes Ally's CX second to none in the banking industry. Pair that with their competitive certificates of deposit, and their banking model wins.
4. Uber (Michel)
Like Apple, Uber made radical changes to getting a ride. Think about it. In the past, you had to hail a cab to get a ride anywhere (unless you had a friend willing to help out). Cab-hailing brought its own challenges, too.
Uber saw that need and created an entirely new experience around it: calling a "cab" from the convenience of your smartphone. They leveraged their software, too—continually improving the user (and customer) experience, setting the standard for the rideshare companies we know today. That's why Uber makes one of Michel's top picks for CX.
So what do Ally Bank, Essilor, Uber, and Apple all have in common?
They each adhere to a core tenet of CX—being customer-centric. In today's customer-driven, digital-first-but-digital-only landscape, your company's competition is literally just a click away.
Which is one reason that customer experience is always worth the investment for those who wish to stand out and win in their markets—for these companies and many others, it's driven provable ROI and the ability to differentiate from competitors.
If you're interested in business results like these, then consider following in the customer-centric footsteps of the companies that inspire CX innovators like Michel, Tim and Kevin.