Why you should care about Millennials (Hint: They're not just consumers…)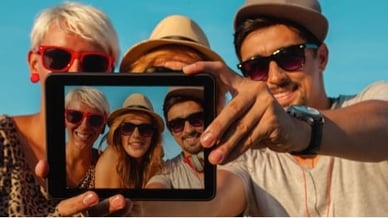 Generation Y. Digital Natives. The Net Generation. Whatever you call the generation that follows Gen X, Millennials – born between (about) 1980 and 2000 – are the last generation of the 20th century, and the first generation that's truly digital. And now they're about the biggest generation as well, projected to represent 33 percent of the world's population (outpacing Boomers at 32 percent) by 2016 and growing.
This trend helps explain why marketers focus on this generation, but when you add in the fact they make up 21 percent of all consumer discretionary purchases – yes, that's over $1 trillion in direct buying power plus a bunch of influence – it gets even clearer.
But many of these discussions skip over another key fact: Social-minded, technically-savvy Millennials are increasingly in positions where they directly influence or are responsible for B2B purchases. As they move into decision-making roles (or increasingly start their own companies – think Mark Zuckerberg and Facebook, Jack Dorsey and Twitter, Sean Parker and Napster…) the influence they wield of corporate purchasing will do nothing but grow.
Growing up as digital natives, these folks are among the most digitally adept and market-savvy buyers around. Nearly from birth, they've been "plugged in" – with always-on access to the internet and disruptive digital technologies, and expectations of customer experience formed by the technologies and devices they continue to surround themselves with.
In short, Millennials are among the most powerful consumers in history, and are well on the way to assuming a similar role in the companies they work for. When we talk about "The Era of Smart Customers," Millennials are the poster children – and parents, bosses, entrepreneurs and managers – shaping the future of customer experience.
Digital and beyond - the customer experiences Millennials really want.
Anyone who's looked at or thought about the customer experience preferences of Millennials have heard how much they rely on those screens in their hands or on their desktop.
According to Razorfish, 56 percent of U.S. Millennials say their phone is their most valuable shopping tool in-store. Stats like this (and they are very easy to find) tend to laser focus those executives trying to connect with them on mobile digital technologies, and the anytime, anywhere convenience they offer these increasingly demanding customers.
But as important a channel as mobile is, it's not the key point. It's that mobile, in combination with other channels, has the potential to enable the delivery of what Millennials really value most: A seamless, friction-free customer experience. Research by Accenture and others actually blows the myth of the pure "online Millennial shopper" clear out of the water.
The fact is, a majority of Millennial consumers – in the U.S. and around the world – prefer shopping in-store to shopping on-line. Why? They want to see, touch and feel what they're buying. At the same time, they regularly use phones in store to do thing like conduct research and compare prices.
When it comes to B2B, the desire to personally connect plays out as well, with direct contact with vendor representatives the number one way they prefer to research B2B products and services. But as the buying cycle shifts, they'll rely first and foremost on data and analytics to support their purchase decision.
What this means to you
What this casual "channel switching" tells us is that no one channel alone is a silver bullet for selling to or serving Millennials. It's all channels. And these channels – in-store, online, social, call center and more – must have the ability to not only provide seamless customer experiences from one channel to the next, it's that each channel must support the others in ways that drive engagement, create transparency and are, in combination, easy and enjoyable to use and effective at meeting customer needs.
This is what we mean by seamless, or 'friction free' omni-channel customer experiences. These experiences are both simple and consistently personalized. It means you design your systems to benefit your customers and support their needs across channels, integrating all your sources of customer data to better serve them. It means you embrace customer-centric change, customizing experiences and interactions to deliver the experiences that Millennials demand today – and that all your customers will expect tomorrow.
In other words, a seamless omni-channel experience is what Millennial business buyers and consumers expect, and will demand. And they'll expect it no matter what you're trying to sell them, or how you're trying to do it.