For many organizations, an understanding of where customer interactions occur is stuck inside functional or organizational silos. As a result, it's difficult to see how customer interactions can be improved, and in what order they should be. When customer knowledge is locked away rather than viewed through the cross-functional lens of the customer journey, the concept of customer experience remains just that.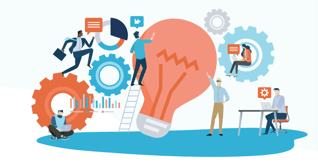 Many organizations have good intentions—but not the customer understanding—to help identify and eliminate experience disconnects. And it's well understood that voice of the customer (VoC) insights play the major role in gaining this understanding.
After all, the entire concept of customer experience improvement is based on organizations adopting an outside-in view of what it's like to do business with you. Yet there are significant insights to be gained by leveraging your internal expertise and collective knowledge before you spin up a customer research initiative.
In fact, the first step of any customer experience initiative is to begin with a clear idea of what you already know about your customers , including their goals, pain points and key interactions. This is where voice of the business comes into play, and a one-day journey mapping workshop is the most efficient way to get at these insights.
Engaging "Voice of the Business" to Map Customer Journeys
It might seem a bit aggressive to get at customer insights in a day. After all, many organizations have been trying to improve customer centricity for months or years, and not much closer today than when they started. This doesn't have to happen with you.
In fact, you can end your day-long journey mapping workshop with a pretty good idea of your customer lifecycle, including customer objectives or goals as they move through their journey from discovery to engagement. Further, you'll develop an initial understanding of what interactions exist and where, as well as major pain points identified.
Here's an outline of things to keep in mind, and how you and your organization can get there:
Start by understanding the journey you're trying to map
Customer journeys come in many shapes. From an end-to-end relationship journey to a process-specific one (such as service or a physical in-store experience), start with a clear idea of where you wish to focus.
Make sure you have the right people in the room
To get the customer view through the eyes of the business, you need a truly cross-functional group that "gets" the customer. Like – for a start – call center supervisors who handle escalations, marketing folks who manage customer-facing programs and IT team members who understand which systems support what interactions.
Begin by building a straw model of your customer
Who are you trying to solve for? By walking an archetype of a "real" customer through the journey, it's easier to see what they go through. This customer persona serves as the framework for the rest of your exercise.
Identify the customer lifecycle unique to your business:
The lifecycle will be different, depending on the process or journey you're trying to map. For example, an end-to-end relationship journey often starts with discovery, and ends with engagement. Label each stage, as you think your customer experiences it.
What are your customers trying to accomplish?
Customer wants and needs are different at different stages, and change in priority and importance from stage to stage. For instance, price may be key at the purchase stage, and less so when it comes to service. And goals change, too. Customer goals for a service experience will be very different from those of a broader relationship.
See where interactions occur, and where specific touchpoints are
As with wants and needs, touchpoints are different at different stages, and change in priority and importance from stage to stage. For instance, sales touchpoints are key during consideration, but not really important (if they exist at all) during engagement.
Prioritize key aspects of the journey
By looking at the journey through the lenses of customer interactions, goals, wants and needs, it becomes easier to see what their expectations are, and where they are (and aren't) being met. Identifying gaps around pain points and moments of truth along the way tells you what you should consider fixing and/or learning more about, and why.
Many times, we've seen that these workshops are the first time a cross-functional group gets together in the same room to discuss their customers. Even for those companies that are more collaborative, the workshop environment creates alignment and shared understanding among participants, and can help socialize the idea of customer experience as well as drive the creation of action plans for improving it.
As they better understand the customer journey through the eyes of other groups and functions, team members see tangible benefits ranging from ways marketing resources may be realigned to obvious service gaps that can be closed to better meet customer expectations. By bringing the combined expertise of different teams into the process, an increased organizational understanding of your customers follows.
This blog originally ran on CMO.com, where Michael Hinshaw writes the weekly "Get Customer-Centric" blog.