Published September 4, 2013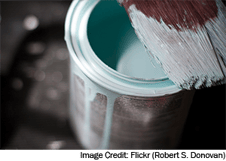 Email messages, social media, targeted ads, mobile apps, and SMS all make it possible for companies to stay in contact with customers at any time, in any place. But it's all still new enough that you should sit up and pay attention when a company—such as Benjamin Moore Paints—is doing it right.
As you're about to read, Benjamin Moore's approach to constant customer connection balances different audiences, channels, and tactics in a way that not only creates a stronger customer and brand experience, but nets valuable customer insights.
Getting Smart About Social
In case you've been living under a rock, companies can no longer rely solely on customer service lines and in-store reps to educate customers. Smart customers look for answers in many places and whenever it's most convenient. If you don't have a constant presence providing the information they want, then someone else will—be it friend or foe.
To provide that constant presence, Benjamin Moore has assembled a high-performing, highly analytical social team. Rather than be a mouthpiece for company promotions or triage center for support, though, they team is taking a much more customer-centric approach to social.
The team noticed females ages 35 to 55 were more commonly interacting with the brand via Facebook, while Twitter interaction came more from industry professionals, such as architects and designers. This helped them craft more appropriate strategies and messaging tailored to the distinctly different wants and needs of these audiences.
Now Benjamin Moore's Facebook page has nearly 475,000 likes. It has become a platform for the company to post product ideas, garner comments on projects, and promote competitions—fostering a real sense of community. It is still responsive to customer questions, of course, such as its return policy and where to purchase products in different locations. But these kinds of inquiries can form a continuous improvement loop, identifying gaps in existing touch points and highlighting areas to focus future customer experience initiatives.
Social isn't the only way to provide a meaningful, constant presence for your customers. Back in May we highlighted the many ways Sephora is leveraging mobile technology to better connect with customers. Whatever the channel, though, you want to make sure you're providing an experience that exhibits how well you understand your customers, not how poorly.
Connecting From The Outside-In
One looming mistake when it comes to trying to stay connected through touch points is going too far to the extremes. You don't want to flood your customers with self-promotion and one-way communication. Nor do you want to simply provide a laundry list of ways for customers to contact you, then wait for them to do so. When you think about it, neither case is really focused on the customer.
To make more nuanced choices, you should be continually asking yourself outside-in questions. "If I were a customer…"
Why would I need this product/service?
Where would I look for information?
How would I compare these two products?
What kind of service and experience would I expect?
What would make me more likely to purchase (or repurchase)?
What would I think this brand stands for?
By answering these sorts of questions (for multiple customer segments), you'll be poised to deliver the right messages, in the right ways, at the right time. Companies that can do that have a way of drawing customers in and building loyalty that seems almost effortless. And if you can make being a 24/7 source of relevant information across multiple channels to increasingly demanding and sophisticated audiences with very diverse needs seem effortless—well, you're doing pretty damn well for yourself.
This blog originally ran on CMO.com, where Michael Hinshaw writes the weekly "Get Customer-Centric" blog.