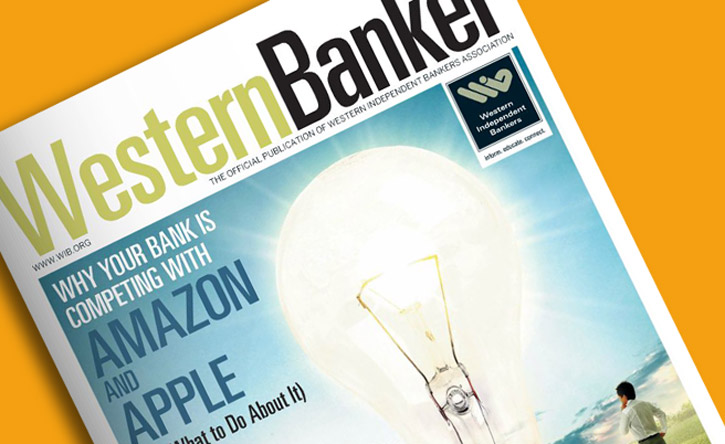 Michael Hinshaw for Western Banker
McorpCX has conducted customer experience research with thousands of banking customers for dozens of banks. And the experiences customers expect has changed dramatically in recent years. Why?
We've heard from college students, high-net worth individuals and small company CEOs, and everyone in between. And in the last few years, we've seen the ways these customers interact with, and think about, their banks change dramatically. Yes, technology is a big piece of this change. We all know that smart, digitally empowered consumers research, connect and purchase online with laptops, tablets and smartphones without a second thought. After all, "they" are "us."
But the bigger, more interrelated piece is around the ways that digital innovation has changed customer expectations of experience. Because these "smart customers" are used to getting what they want, when, how and wherever they want it, and these expectations translate to what they want in their interactions with every company that serves them – including your bank.
Why should your bank care what Amazon does with their customers?
As a consumer, think about what your expectations are when you deal with companies like Amazon, Disney or Virgin America. Why are those expectations met? Because these leaders know you and your buying history, and have a good understanding of your wants and needs and how to meet them.
They're also expert at making the experience of dealing with them simple, easy and enjoyable. As a result, they're able to offer personalized experiences that are customized for you – and that their competition can't easily match.
Across the board, we've seen that banking customers aren't just comparing the experience of dealing with you to the best in your industry – which they are, of course – but they're comparing you against the best experiences in the world. Put another way, when it comes to customer expectations of the banking experience, you're competing against Apple, Amazon and Disney.
Those banks that embrace these changes will not only survive, but thrive. Those that don't, won't.
While these trends have sobering implications for all companies, the shock will be greatest for companies that are in perceptually commoditized industries – such as banking. Why? Because in an industry where one bank looks and feels much like another, your ability to deliver a great customer experience is the only sustainable differentiator.
In fact, the consulting giant Accenture predicts that these shifts will cause up to 25 percent of U.S. banks to disappear completely by 2020, just a few short years away.
In a world where digital disruption is changing nearly every business – and nearly 40 percent of lost banking customers leave due to a bad customer experience – it's clear that the world of banking as you know it is changing, and it's changing quickly. In this world, mobile banking jumped over 50 percent, and online purchases of products like auto and home equity loans jumped 100 and 500 percent in just one year – from 2012 to 2013.
As a result, there's only one approach banking executives should embrace, and it's as simple as this: Make understanding and responding to the needs of your smart customers a priority for your people and your institution.
Five things your bank can start doing today to better serve smart customers.
If you look at your bank and your industry through the lens of digital innovation and the demands of smart customers, you'll find new ways to drive value, better leverage existing assets and create new ones. Put another way, you'll conceive ways to leapfrog your competitors by re-thinking generally accepted industry standards.
After all, this is what disruptive financial services companies like Square, Ally and Simple (and many others) are doing. There is a lot your bank can and should do to better position it in the face of these trends. These are some of the things we'd suggest you start thinking about now:
Make Customer Experience a Priority: Understanding your customers' expectations and redesigning experiences to meet them will create competitive differentiators others can't easily match.
Reinvent the Branch Experience: While still critical for getting and keeping customers, branches are ripe for redesign – like your traditional products, "one size" no longer fits all needs.
Segment Customers by Wants and Needs: Increase your understanding of your customers, segmenting them by individual wants and needs, as well as their value to your banks.
Enable Cross-Channel Distribution: Every channel – branch, call center, ATM, web, mobile – must be both a service and a sales channel, meeting customer needs where and how customers want to be met.
Anticipate Customer Needs: Gather customer feedback and leverage the data surrounding them to better anticipate and respond to their needs, when (or even before) they have them.
It doesn't matter that you sell checking accounts or loans, or that your customers are retail or business banking customers. The truth is, customer expectations of their banking experience are based on their perceptions of what an ideal experience should be.
In the fast-moving years ahead, someone has to make room for the growing number of upstart digital players, direct banks and established institutions that most effectively respond to the radically greater customer expectations these disruptive innovations have created.
My hope is that you'll take steps to ensure that that "someone" will be someone else…
If you'd like to speak with someone at McorpCX, please reach out!