The New York Times ran a piece recently on the ways that CVS drugstores are using big data to revolutionize their business. The context of big data is an interesting read in its own right, but the "between the lines" lessons on customer experience are what really grabbed my attention.
CVS is using big data to help segment their customers not just by value, but by those customers' wants and needs – and the implications for any company that wants to get closer to their customers are crystal clear. Since CVS is doing such a great job, I thought these 5 very specific examples from the article were worth sharing. And if you're really interested in being customer-centric, they're well worth reading.
Segmenting Your Customers by Needs and Value.
Most companies utilize some sort of customer segmentation. Typically, it's in developing marketing strategies. But the implications cross all functional areas of a business, from finance to customer service. The fact is, though, when most companies talk about segmentation, they mean segmenting by value—that is, dividing customers into different segments based on their actual or potential revenue.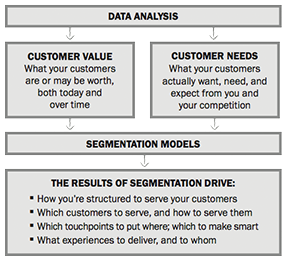 Value-based segmentation isn't bad per se. From a company's perspective, it helps you identify the groups to focus on acquiring and retaining, as well as insights like which groups can (or should) be serviced with lower-touch, lower-cost interactions. It's a critical first step. But most companies stop there. You cannot, because value-based segmentation gives you zero insight into customer needs. In other words, you can't tell what one customer wants vs. another. Without these insights, you can't design or deliver exceptional customer experience, nor differentiate yourself from your competitors.
Segmentation by need is based on understanding the needs of discrete customer groups. You're looking for groupings based on common wants, needs, and expectations of your company. This allows you to design customer experiences—including products, services, individual touchpoints, and more—in ways that best satisfy those needs and strengthen the relationship between company and customer with every interaction.
Ultimately, when combined with segmentation by value, a company can use these techniques to create significant financial and competitive advantages.
How CVS Has Mastered the Art of Segmentation
Historically, one of the big challenges with segmentation is that technology hadn't kept pace with the academics. Our ideas were more sophisticated than what we could execute, so companies often resorted to segmentation based on qualitative insights. And while qualitative research is still important for designing experiences, the age of Big Data has radically changed the ways companies can "get at" and understand customer needs.
Now companies such as CVS can use an ensemble of quantitative analysis and segmentation techniques to define and deliver outstanding customer experience, in contexts ranging from real-time execution to medium- and long-term planning.
What makes this article a great case study is the specificity we can glean about CVS' approach to segmentation. We can go far beyond categorically saying they segment customers by need. Based on anecdotes from the Times article, we can identify 5 categories of segmentation that CVS employs with great success, frequently in utilizing one in concert with another.
5 Segmentation Lessons from CVS Drugstores:
1) Psychographic Segmentation: Psychographic segmentation is one of the more familiar types of segmentation. It involves segmenting customers by lifestyle, values, personalities, etc. For example, any company that creates customer personas uses psychographic segmentation to identify differences between customers and educate staff.
CVS is no exception. Their move away from value-based segmentation was anchored around family lifestyle. Specifically, CVS prioritizes strategies around a "super customer" persona of a woman in her early 50's who's responsible for managing medications across three generations: her children, herself and her husband, and her parents.
2) Behavioral Segmentation: Behavioral segmentation is based on a customer's attitudes, usage, and responses toward a product or services. There's an element of behavioral segmentation in CVS' super customer persona, because they're focused on that customer's frequency of purchases rather than just the possibility based on psychographic profile.
CVS also uses behavioral segmentation in store layout decisions. As the Times points out, they long struggled with where toothpaste should reside in the store, until data analysis revealed customers who buy toothpaste most consistently bought beauty products during the same transaction. That's where dental hygiene gets shelved now.
3) Benefit Segmentation: Beauty products also provide a great example of CVS utilizing benefit segmentation. That is, grouping customers based on the specific functional or emotional benefits they seek. CVS now mines customer purchase data to identify individuals who buy hair and skin-care products at CVS, but not cosmetics.
All three product categories share a common set of benefits, so the assumption is that cosmetics needs are being satisfied elsewhere. So, CVS targets those individuals with cosmetics promotions to capture wallet share.
4) Geographic Segmentation: Segmenting by geography involves identifying customer groups in different specific (city, region, state, etc.) or general (urban, suburban, rural, etc.) geographic areas. CVS used data analysis to uncover very different needs and purchase behaviors in their urban and suburban stores and uses those insights to tailor what they stock in those areas.
For example, urban shoppers purchase all sorts of staples at CVS; whereas, suburban shoppers have convenient, nearby alternatives like big-box stores.
5) Occasion Segmentation: One of the less heralded, but incredibly smart, segmentation techniques used at CVS is occasion segmentation. Not just in the way marketers are accustomed to thinking about it—e.g., flowers around Mother's Day—but specific purchase intervals.
In one instance, CVS customers purchase toothpaste every 5 weeks or so. So, now CVS can either offer basic promotions around the 4-5 week mark, or very aggressive ones later if a regular toothpaste buyer hasn't purchased in a while.
As you can tell from CVS' examples, there's basically no limit anymore to how a company can leverage the data surrounding their customers to better understand and serve the needs of their customers. More importantly, it's becoming ever easier for companies of all sizes to adopt these different segmentation techniques.
For any smart company, segmentation by needs is the engine for driving smarter and better customer experiences. Which is why this is the part you need to pay attention to – because the fact that this type of research is getting easier to do means that it's becoming easier for your competitors to better understand and serve your customers, too.
Phrased differently, if you don't know your customers in this way – and continue the learning process on an ongoing basis – you will fail in one of two ways. You'll either consistently fail to give them what they need at any given point, virtually ensuring that their experiences will be bad some of the time. Or, you'll be unable to see the opportunities to satisfy or delight your customers and increase their value – leaving the door open for someone else to do so instead.
This blog originally ran on CMO.com, where Michael Hinshaw writes the weekly "Get Customer-Centric" blog.