Let's get right to it. For most companies, delivering a poor customer experience translates directly to lost customers and lost profits. Do not pass go. Do not collect the $289 in average annual income you lose for each relationship gone south. Do not bother to fix an issue if you don't respond in a week because half of all consumers will stop doing business with you if you can't get it together within seven days.
If you're a CMO, it gets even scarier: That's because 89 percent of all consumers will start doing business with a competitor after a single poor experience with you. Let's round that to nine in 10. (How much does it cost you to acquire a customer? Isn't it something like five to seven times more to get a customer than to keep one? Ouch!)
"Not us--we're B2B," you say. "Not so fast," your customers say.
At MCorp Consulting, we also work with lots of B2B clients, and guess what? Their customers are bringing consumer expectations to the office.
"Why can't we get free shipping?" asked one customer of a major international distribution firm. "Amazon gets me stuff overnight, and I don't pay a dime. Yet you take a week to get me a shipment and charge me for the privilege? Thanks for nothing. . ."
Welcome To The World Of Smart, Empowered Customers
A growing percentage of your customers are nearly always connected. They have access to more automated tools than the most advanced enterprises had five years ago. And their expectations for experience have radically changed as a result.
No longer content to wait a day (much less a week) for what they want, they demand the ability to search, shop, explore, and transact at any time, from anywhere. And if they're not happy with any aspect of their interactions, they'll quickly leverage their social influence to amplify any dissatisfaction in the echo chamber of the Internet.
This near-instant access to competitor and market data–as well as the accumulated knowledge of human civilization–also means that customers can easily spot misstatements or inconsistencies, find a better price, and buy immediately from a competitor, whether they're at home or standing inside your stores.
The trend is only just beginning, and you'll see it accelerate in the months ahead.
The Issue Is The Answer: Fixing Customer Experience
It's quite likely that customer experience isn't news to you. More than 90 percent of executives surveyed in a recent Forrester Research report state it's on their company's list of top strategic priorities. For nearly 30 percent, customer experience is the top priority, which is unsurprising given that two-thirds of companies want to differentiate on customer experience.
Unfortunately, turning this imperative into action isn't happening very easily. More than half of these companies don't have a clear customer experience strategy, and an equal number struggle to gain cooperation across their organizations. And only a fifth share customer insights across their businesses.
Put another way, all the voice-of-the-customer (VoC) research in the world won't help improve experience if an organization doesn't actively listen and have a plan for consistently taking action on what it hears.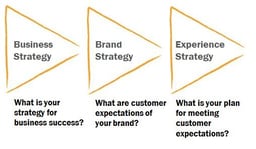 After all, poor experiences happen when customer expectations aren't met. And without a clear understanding of what those expectations are, it's pretty hard to deliver the kinds of experiences that actually meet customer needs. Further, a lack of understanding around which customers are most valuable to you (or have the potential to be) makes it nearly impossible to intelligently focus limited resources. After all, no company can afford, nor should it try, to deliver a "perfect experience" to every customer.
If it sounds complicated, then that's because it can be. I recognize the process isn't simple; if your company is like most, the customer experience isn't truly "owned" by one group. Data is in silos, and divisions or employees aren't incented to work together to deliver a seamless, consistent customer experience across all channels.
But no matter how complex, improving customer experience is one of the most important things any company should be focused on.
Getting Ahead Of Changing Customer Expectations
When it comes to improving customer experience, those companies that get ahead of customer expectations will grow rapidly and continue to prosper. Those who react slowly or tentatively will be increasingly marginalized. The purpose of this blog is to make sure that the latter doesn't happen to you.
In the weeks and months to come, I'll explore specific ways your company can become more customer-centric and profit from the shift. From multichannel adoption of customer experience strategies to implementation road maps (and the myriad touchpoints, processes, and systems in between), I'll help make your options crystal-clear so you can make informed choices about where to lead your firm in the short years ahead.