Fixing CX potholes and using roadmaps for your CX program: I
nsights from Forrester CX North America 2022.
The presentations at Forrester CX North America 2022, which took place June 7-9 at the Gaylord Opryland Resort and Convention Center in Nashville, were full of amazing insights and information. But as always, there were a few key takeaways that stood out for me. Here are six insights and two of the most important themes I took away from the event:
The Continuing Evolution of CX: Customer experience (CX) is "more, bigger, better, and more impactful" since we were together last in 2019.

Importance of EX: Unsurprisingly, the importance of employee experience (EX) is more widely recognized and continues to be central to improving CX and speaks to the importance of talent as a critical audience.

Metrics and Analytics: Metrics and analytics and their role in enabling demonstrable ROI from improved CX is front and center. (See the McorpCX Quick Start Playbook: CX Metrics Systems That Deliver ROI for more on that…)

Aligning Brand and CX: "…Only ~27% of CMOs think aligning experience with brand is a priority." (Wow!) The hands-on practitioners here disagree – we see the criticality of and need to align brand, experience, and customers.

CX and Purpose Driven Brands: Brands need to account for the increasingly hardened values and polarized beliefs of customers. Increasingly, they demand that their brands take public positions on the social and political values important to them (think Patagonia and Hobby Lobby). And no, not just millennials but all segments will punish brands for taking no position or a position they oppose.

Devotees: It's important to nurture and keep devotees … think extreme promoters or advocates.

The Top Two Takeaways
I've been having (and overhearing!) conversations on the floor since my first Forrester CX conference about 10 years ago. And every year I've gone to the conference has been instructive. This year, two of the most discussed—and most interesting—themes that came up were:
"CX potholes" are CX issues that companies are facing and it's important to fix them.
We have used this term for years and advocate this approach. Basically, it's recognizing that CX success is about doing lots of little things that are important to both customers and your organization, delivering real observable, measurable, incremental (but rapid) value that positively impacts your customer experience and business metrics. Rarely—though occasionally—this also means big, radical transformations. This applies whether improving experiences or improving CX (or EX) capability.

You need a road map for your CX programs (or one that's better, more formal, or more investable).


A large majority of attendees I met were either new CX leaders or team members, or recently promoted CX leaders. Among this audience, there was an overwhelming demand for:
Making the CX (or EX or PX

, or…) function more of a formal, enterprise program.

A best practice but customized maturity model and roadmap to show where we are, where we want to go, and what we should do to get there.

Ways to communicate the value that these programs drive… since that's what compels an organization to invest and act.
McorpCX has been applying our CXM Capabilities framework and playbook for the past eight years to help clients do exactly that...formalize, roadmap and communicate value. Contact me at graham@mcorp.cx for more information.
Last But Not Least....
The event was capped with the retirement of Harley Manning, who made his last public appearance on the Forrester CX stage Thursday, June 9th, after founding Forrester's CX research movement and leading it for roughly 25 years.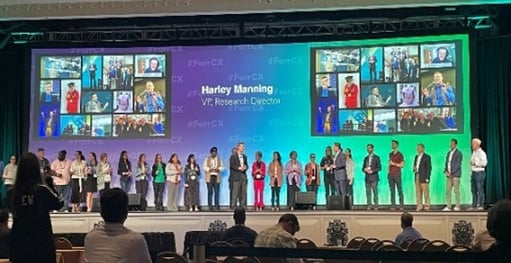 Thanks for all you've done, Harley…
(To Harley, from a Devotee, thank you again for everything you've done... but I've gotta ask - is this the beginning of a Tom Brady-style recurring retirement or a Rolling Stones' 15th retirement tour?)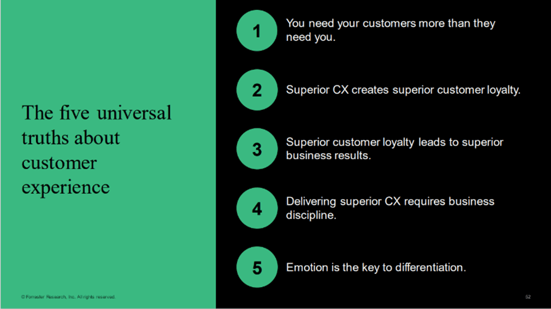 Image Credit: Harley Manning
So there you have it – six insights and two themes that I took away from Forrester CX NA 2022 that might help you on your journey to delivering outstanding customer experiences.
And for what it's worth (though I may be in the minority), I love the move from NYC to Nashville. There's some voice-of-the-Forrester customer feedback for you.
See you at Forrester CX North America 2023!
Post authored by Graham Clark