Published December 6, 2012
What do we want? Sugar! When do we want it? Now!
Earlier this year, Los Angeles-based cupcake bakery Sprinkles launched the cupcake ATM in its Beverly Hills location. The cupcake ATM is a 24-hour-a-day, seven-day-a-week cupcake dispenser that gives passionate cupcake eaters access to their sugary fix whenever they want it, as easily as buying a soda or pulling a few crisp $20s from your local bank. The company has since announced plans for additional ATMs in nine markets, including New York, Chicago, and Houston, where it has existing stores.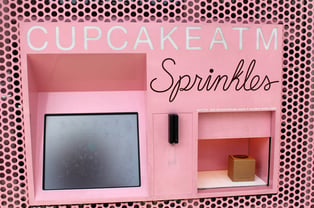 The press has predictably gone nuts, giving the media-savvy Sprinkles' newest innovation lots of attention. After all, who doesn't love cupcakes?
Helping fuel the decision was obvious unmet customer demand; Sprinkles stores often close with lines out the door.
The numbers are compelling, as well. The store sells about 1,500 cupcakes a day at $3.50 each. The cupcake ATM sells another 800 to 1,000 cupcakes a day–at $4.00 each, a 50-cent premium over the in-store price. It's already enormously popular. You'll sometimes find lines at the ATM in the middle of the night.
The business-savvy behind Sprinkles' decision is obvious. But the lessons for businesses–any business–go well beyond this. In the era of smart customers, the ability to better understand your customers and, as a result, serve them in ways your competitors cannot, is the only source of long-term competitive advantage.
So when it comes to better serving your customers, here are five lessons your company can learn from the cupcake ATM:
1. Don't close. Ever. Surprisingly, there are still many businesses where customer service and support is provided only during certain defined hours, online and offline. The cupcake ATM makes Sprinkles cupcakes available 24/7. You must be available 24/7, too.
2. Learn what your customers want–and give it to them (even if they don't know they want it). I'm sure that if Sprinkles asked (and it may have), its customers would have suggested more locations, better line management, more employees, or whatever. How many customers would have thought to ask for a cupcake ATM? Think outside of the box of established practices.
3. Link the digital and physical worlds. Linking the digital (sensors, robotics, video, touchscreens) and the physical (cupcakes!), Sprinkles is harnessing the power of digital disruption. It now better serves its customers (and makes more money) by leveraging new opportunity at the convergence of the digital and physical worlds. You can, too.
4. Find your customers' pain points–and eliminate them. Every company has opportunities to find (and fix) customers' pain. For Sprinkles, its customers couldn't get enough cupcakes. The cupcake ATM means they can now get what they want, whenever they want it. Where are your customers' pain points?
5. Find the emotional drivers of experience–and deliver on them. When you walk up to the cupcake ATM, a song starts playing: "I love Sprinkles, yes, it's true!" The pink machine sports a video feed of your cupcake ("My pretty cupcake!") as the robotic arm gently plucks it up and slides it through the turnstile, into your waiting hands. Whoever thought an ATM could also dispense comfort and joy?
The cupcake ATM isn't just a very smart, media-savvy tool that happens to nearly double per-store revenue, and do so at a much lower per-cupcake cost. It's also one of many examples of the immense opportunity to reimagine existing business and service models by integrating customer-centric innovation into widely accepted, tried-and-true industry practices.
Yes, this probably requires a new way of thinking, starting with looking at (or attempting to interact with) your company through the eyes of your customers. That is why the first step in reimagining your customer journey might be a late-night visit to your local Sprinkles for a sugary confectionary (or two) to fuel your creativity.