Published January 2, 2020
Yup. It's that "New Year's Resolutions" time of year again. If this reminder makes your eyes roll, then my apologies – I get it. Too many choices, not enough time.
So I'll make it easy for you: this year, resolve to turn your business into an employee experience leader. Come 2020 and beyond, your employees—and your customers—will thank you. And just as importantly, your top and bottom lines will thank you, too.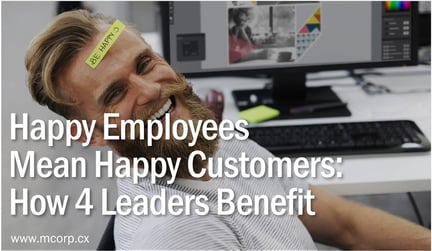 Why? Because employee experience (EX) leaders—those companies who consistently lead their competitors and the market in giving employees and customers what they want and need, when they want and need it—enjoy exclusive and significant benefits.
For one, happy employees are generally more productive, positively impacting the bottom line. Then there's turnover to think about: happy employees are less likely to seek employment elsewhere. And given that the total cost of replacing an employee can range from tens of thousands of dollars to 1.5-2X their annual salary, the ROI of a positive employee experience pencils out pretty quickly.
Add in the value of delivering a great customer experience as well, and the ROI gets even more compelling. The formula is simple: Happy employees = happy customers. CX leaders have happy, loyal customers because their employees and their customers are the center of their business universe.
To which, let's meet 4 CX leaders and top employers that are so good, employees love (and even beg) to work for them.
USAA
As a financial services leader in multiple sectors (insurance, banking, and brokerage, to name a few), USAA excels in all areas. Why has the San Antonio-based company performed so well? Ever since entering the industry, USAA made it clear that they were here for their members first and foremost.
At the number 1 spot on Forrester's 2019 US CX Index in credit cards, brokerage, banks and auto/home insurers, USAA walks their talk – and it shows. They were also ranked by Forbes as one of the top large employers in 2019, and they occupy a coveted spot on the Fortune 100 Best Companies list.
Employees are constantly encouraged to keep the member in mind at work—which is easy, since each USAA employee is a USAA member. The "happy employees, happy customers" mantra rings true: their win-win mentality helps employees themselves and all other members.
Marriott
Marriot won the title of World's Best Employer in 2018. Like USAA, they hold a top spot on the US CX Index and on Fortune's list of best companies to work for. And they've maintained a rank on that list for as long as the list itself has been around. An impressive reputation, to be sure.
At Marriott, every employee feels important from the moment they're on-boarded. They're respectfully called "associates," not just housekeepers and receptionists.
Associates at Marriott learn one all-important idea: company satisfaction is a cycle. It's vicious if you get it wrong, awesome if you get it right. Done correctly, that cycle focuses on CX: the company takes care of its employees, who take care of the guests, and the guests return over and over.
Employee experience and customer experience are inextricably linked. Marriott proves just that.
Edward Jones
In the top 10 of all brands in the CX index, Edward Jones also boasts an enviable turnover rate of just 5%. Since hardly anyone wants (or gets forced) to leave, it's no surprise that Edward Jones also makes the Fortune's Best Companies to Work For list, reaching the top 10 in 2019.
With several J.D. Power awards to their name as well, it's clear that the investment firm is a special place to work. And that's because everything at Edward Jones Associates revolves around being a partner with each client. The client's goals become the center of the universe.
Achieving those goals is a team effort, and it's one the associates are glad to stick around for.
Zappos
Each business tells stories of its own heroes: the employee who went above and beyond the call of duty, the record-setting sales by one rep, or the executive who knows even the janitor by name. At Zappos, the company legend revolves around customer experiences.
As the story goes, one employee invested over 10 hours on the phone with a customer from Las Vegas. Did it really take him 10 hours to sell just a pair of Ugg boots? No. But as one Zappos rep explained, "Sometimes people just need to call and talk…We don't judge, we just want to help."
Also in the top of all CX index brands, Zappos requires each of its employees to spend at least 10 hours in the customer call center, because serving customers is at the heart of all they do. It's their overarching ethos to "Deliver Wow." As a result, the "disengaged employee" problem is virtually non-existent at Zappos; each year, nearly 30,000 people apply for one of the only 300 available positions. People are literally begging to work at Zappos.
What do all these CX leaders have in common? A lot. They inspire their people. They focus on and deeply understand their customers. They recognize the value of and the linkage between happy employees and happy customers. And last but not least, they foster the work environment and capabilities to enable and create them both.
Again, the math is compelling: given that happy employees = happy customers = greater loyalty, higher margins and competitive strength...well, that's a New Year's resolution worth making—and keeping.