Align and educate your people around a digital-first, customer-centric approach.
Whether it's new technology, geopolitical unrest, a competitive threat or, oh, let's say… a pandemic... change and disruption is an unwelcome but inevitable part of business. These days, external forces seem to be upending just about every corner of our lives in spectacular ways.
When it comes to the workforce and how these changes affect our ways of working, the impact is nothing less than paradigm shifting: new hybrid-workplace environments; the integration of digital into every facet of work; the war for talent at every level of almost every organization; changing customer expectations as they demand more and forgive less.
Leaders are increasingly recognizing how critical it is that we prepare and enable our employees (and ourselves) to thrive in a new, more customer-centric, and increasingly digital world.
Align your team with a digital-first, customer-centric viewpoint.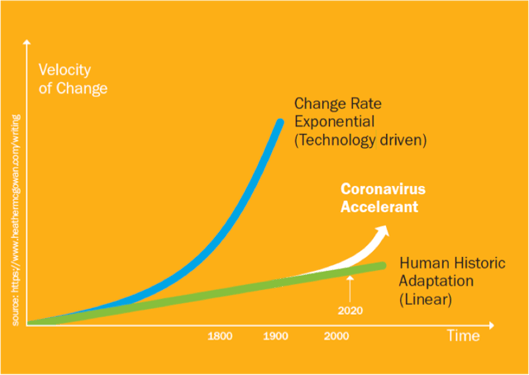 Central to navigating messy, invigorating change, is investing in a systematic approach to align your people with a digital-first, customer-centric viewpoint and approach in everything they do for your organization.
Remote working has upended systems and processes and changed the weave of our on-the-job social fabric.
No matter how well prepared you thought you were—no matter how digitally savvy your enterprise—the pace and velocity of change is making it urgent for your workers to re-skill, up-skill and transform in both subtle and obvious ways.
Beyond the obvious impact to sales channels, points of sale, and changing customer habits, it's worth considering what impact back-office and in-office upheaval, changing work habits and lagging skill-sets are having on your workforce, and how best to prepare them (and yourself) for the future. It's critical not only for their wellbeing but for your operational efficiency.
Many companies are actively up-skilling their workforce now – and reaping the benefits.
Upheaval aside, plenty of organizations saw this era coming. For example, pre-pandemic, Amazon was already investing around $700 million in retraining workers. L'Oreal had already up-skilled 14,000 customer-facing employees on digital capabilities. JP Morgan Chase had committed about $600 million to re-skilling workers for a digital future.
This level of investment in and commitment to educating and training the workforce makes even more economic sense when you see just a few of the many trends driving leadership priorities:
That's a pretty major gap, which has undoubtedly grown even wider in the ensuing two years.
Covid-19 was just an accelerated wake up call for most businesses. The pandemic put pressure on upgrading and learning both hard and soft skills, forcing many to consider:
What are the new norms of influence?

How can we be most effective

—

and still personal

—

in a distance economy?

How do we network and socialize remotely?

What's the strategy for building (and supporting) a cohesive remote team?

How do we vet and embrace new software and systems that will help us run more smoothly?

How have our processes and conventions morphed (or not) to keep pace with how we do business today?
Change doesn't happen overnight, and it's seldom seamless, but it does present opportunities.
The old divide between learning life and work life is long gone. Learning, re-skilling and skills' development today is a constant process that goes far beyond the checkbox training of the past. The process can be messy...disruption usually is. But it can be energizing, too.
Looking through our ever-present "customer first" lens, we see any new process or training as an opportunity to foster a stronger commitment to your employees, to exchange ideas and points of view with them, and to reinforce your customer-centric ethos, all of which in turn fosters even more customer centricity.
Most importantly, enabling the ability to sense and respond to accelerating change transformation forces will enable your company to understand, address and optimize all the ways in which you interact with your customers and compete in your market.
Becoming a digital-first, customer-centric leader is not simple. But it can be straightforward.
So, as you educate and train the people in your organization on new ways of thinking and behaving in customer- and digital-first ways, remember: it's a perspective and mindset that will never go out of style, no matter where your team works from, what software you use, or how you track your sales.
And recognize that getting there may be complex, but there are proven systems to help you and your workforce progress in ways that are tangible and measurable, and that drive top- and bottom-line benefits for your organization, no matter what industry you're in.
We are at an inflection point—one of the decade's biggest opportunities to catapult us into a new era of working smarter, listening better, and responding to customer and employee needs with more agility, if only we can embrace disruption and prepare to meet the unknown with a growth mindset and our eyes wide open.