Published November 22, 2014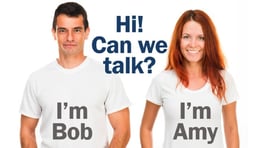 Revolutionary at the time, late 2011 saw Apple's Siri personal assistant introduced as an integral part of the iPhone 4s. I (along with many, many others) was thrilled with the idea that "she" allowed me to have a conversation with my phone, both understanding (most of the time, anyhow) and responding appropriately to my statements.
Even now, voice command access to the internet and all the information stored on my phone continues to make my life a little easier. In our 2012 book (Smart Customers, Stupid Companies: Why Only Intelligent Companies Will Thrive, and How To Be One of Them) Bruce Kasanoff and I suggested that "teaching your company to talk" was one of the many ways intelligent companies could disrupt their industries, raise the standards of customer experience and create new opportunities for growth.
We didn't mean human employees that talk on behalf of the company. In the spirit of Siri, we meant that a digital, computerized persona speaks on behalf of your firm. It takes orders. It provides support. It answers questions. It upsells. It issues refunds. All of this, and more, in response to verbal requests by customers, with no human interaction required at all.
Intelligent Virtual Agents are helping companies increase customer loyalty and reduce service costs.
Today the promise of "talking companies" is getting closer to reality as companies like IntelliResponse spread the digital legacy of Siri and her brethren by bringing byte-based Intelligent Virtual Agents (IVAs) to life with personas including "Olivia" for Nova Scotia Power, "Ana" for Copa Airlines and "Arbie" for Royal Bank.
Pushing the idea of talking companies even further, Barcelona-based Artificial Solutions boasts technologies that enable people to "hold meaningful, two-way conversations with applications and services running on mobile technology, computers and other connected consumer devices, such as smart TVs, satnavs and home entertainment systems in a humanlike, intelligent and capable manner."
Initially playing out in the IVA arena (after all, as ubiquitous as traditional IVR systems are, virtually all customers including yours truly hate interacting with them with a passion), the near future promises conversational, virtual employees that can deliver a great customer experience while helping customers quickly and accurately handle even complicated requests through natural language interactions and speech-enabled consumer devices.
According to Gartner Group, 50 percent of online customer self-service search activities will be via a virtual assistant for at least 1,500 large enterprises as early as 2015. The results? Increased customer loyalty, and a significant overall reduction in customer service costs.
As if this isn't incentive enough, it's also worth considering the many other benefits of a talking company.
If it could talk, what could your company do faster, better or more efficiently?
These are just some of the many things your company could do, if you could "teach it to talk":
Provide true one-stop shopping;
Radically reduce the cost of serving your customers;
Serve your customers much more quickly than you can today;
Make digital interactions more human and personalized;
Answer any question accurately, assuming the correct answer is in your database;
Improve customer experience, by answering questions much more quickly;
Remove significant amounts of friction from customer relationships;
Eliminate the need to transfer customers from one department to another.
Gartner Group also predicts that – in just over 5 years – customers will manage 85% of their relationships with companies that serve them without any human interactions. And for most of us, that's not only totally fine, it's preferred – as long as we're able to access what we want, when we want it, from wherever we are. And at the same time, we wish to be assured through these interactions that we're valued and important.
This means that for these kinds of interactions to actually meet customer wants and needs, they need to be fast and accurate as well as being easy, enjoyable, effective and personalized.
A mission for IT and the consultancies that support it: Integrate customer data across the enterprise, and make it easy to access.
The toughest part of this challenge is not technical, although a few problems still need to be solved. The hardest part is knocking down the walls that separate your customers, databases and departments. It's the technical (and often political) challenge of identifying and connecting the multiple data stores and systems that live in different groups, business units and operational silos.
It's also the need to decide whose product gets cross-sold, who gets "credit" for sales, and who "owns" the customer. In this, our view is simple, though we well know the solution isn't: No one owns the customer, and you either do what's best for the customer or you will lose her.
Silos and cultural issues aside, the real question you should be asking yourselves is this: in this environment, what happens if your competitors' companies talk, but yours doesn't?