Everyone is talking about customer experience. What it is, why it's important, how to deliver and how to improve it. Everyone, it seems, has an opinion. Which is why I thought you'd be interested in hearing what the customer experience professionals are wondering about.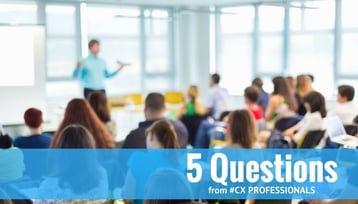 These are the Directors and Managers of CX inside Fortune 500 companies. The CMO's and IT leaders my firm and I advise and support in the day-to-day of planning and delivering on the promise of customer experience. They all have questions, of course. These five are among the most common.
How can we better understand the impact of emotion on customer experience?
Popularized in books like "Predictably Irrational" and"Thinking, Fast and Slow" leading behavioral economists believe that rational considerations account for less than one-third of customer behaviors and decision making. Yet most companies spend most of their efforts on improving practical, functional aspects of experience, neglecting the emotional impact of experience on customer loyalty. Which is why smart customer experience professionals want to better understand the way their customers feel about their products, services and experiences.
How do we deliver a true omnichannel experience to our customers?
The reality is, customers expect an Omnichannel experience. The challenge is that the ability to meet these expectations across channels is hard. It requires an integrated approach to experience design and delivery across myriad customer-facing systems, processes and functions.In our experience, those firms most successful at delivering on this leverage IT to help lead the digital transformation by helping their organizations address customer interactions more holistically.
How can we better personalize customer interactions across the entire journey?
With the rise of marketing and sales automation software, marketers have become much better at personalizing offers and messaging across the buyer's journey. But customer experience is much more than marketing – which is why customers increasingly expect every interaction to be customized based on their unique wants and needs (think Amazon and Netflix). This is why CX professionals are working to leverage customer data to personalize experiences across the entire customer journey, and to deliver it through all channels.
How can we measure the experiences we deliver in less overt ways?
Every company recognizes the importance of measuring CX. But most Voice Of The Customer (VOC) programs rely heavily on customer surveys. Customers? They're sick of NPS, satisfaction and how-was-your-most-recent-experience surveys of all kinds. While the future of customer experience measurement leverages less invasive feedback tools like social listening and text analytics, it is far from defined. Which is why the winners will relentlessly look for, and find, ways to better understand what their customers want, think, feel, need and do - without having to ask them.
How can we make customer experience measurement for actionable?
While most companies have VoC programs in place, only 29% think VoC is effective in driving action. The thing is, making CX measurement actionable isn't a mystery. It's just difficult. It starts with the ability to bring customer feedback to life in ways that create a deep understanding of customers, and doing so across the organization – from executives to line staff. It's worth the work. After all, Aberdeen notes that best-in-class organizations have 55 percent greater customer retention. So take a page from the winners, and don't just listen – act.