Published November 7, 2013
Where might you end up if you set out to deliver an immersive, in-store shopping experience for cross-channel, fashion-obsessed and casual shoppers? By crossing the traditional barriers between in-store and online channels – and leveraging rather than fighting the "showrooming" tendencies of today's digitally-enabled customers – you get a glimpse into the future of shopping.
You also get a glimpse into the future of all customer experience, and the potential of technology to transform the way companies develop experiences and manage all customer touchpoints.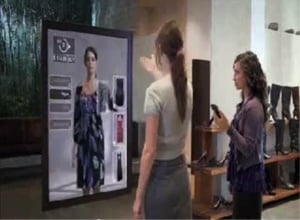 Last year, Cisco Systems deployed a test of their StyleMe Virtual Fashion Mirror for customers at the London-based John Lewis department store, making use of a "mirror" that houses a 3D camera to create an immersive shopping experience. With it, customers can instantly transform their wardrobe by "seeing" themselves and various styles in a real mirror, powered by a virtual system.
Using hand motions, shoppers cycle through clothing options to help them make smarter purchasing decisions. Garments appear and disappear, allowing them to assess what they like and what they don't, instantly and digitally, and do so without once coming into the contact with an article of clothing.
Create an Environment that Can't Be Replicated Anywhere Else
A growing list of brands have started looking to immersive shopping experiences to better manage all aspects of the purchasing lifecycle, with customer experience as the organizing architectural philosophy. Companies like these are bringing nearly all of the convenience of online shopping into a retail location.
One of those is Microsoft – taking aim at retail with its wildly popular (and sensor-rich) Kinect gaming platform. By capturing customers' movements and "virtually" placing them in different interactive environments (without leaving the store) they create an experience that's both immersive and fun. If you take a look at Microsoft's videos, you can see customers drawn in by the interactive content, experiencing products well beyond simply looking at or even holding them.
But the bottom line here isn't technology, or retail. It's at the heart of brand and customer experience strategy in every business – understanding what it takes to create and maintain competitive advantage in a time of disruptive innovation and changing customer expectations, wants and needs. It's to create a customer experience that's uniquely "you" – creating competitive advantage can't easily be copied.
Helping Smart Customers Make Better Informed Purchase Decisions
No matter what your business is, sticking your head in the sand is a poor strategic response to serving smart customers. Yet many companies and their leaders seem to do just that. Surprisingly, retail is little different. Typically better than other industries at customer experience, retailers are at the top of the 14 industries tracked in Forrester Research Inc.'s 2013 Customer Experience Index. Why? Because their feedback is immediate. They're exceedingly close to the customer, with daily sales figures and per-store revenue serving as near real-time feedback tools.
Yet the fourth annual Digital IQ Index – which benchmarks 71 major retailers – found that well over half of the brands analyzed don't have a single visible digital display in store, despite the fact that those businesses that offer digital tools at their brick-and-mortar locations see in-store revenue increases of 10 to 40 percent.
As an example, the number one brand in the index – Sephora – earned the only "genius" label, in part I believe (and as I wrote about last year for CMO.com) for its rapid adoption of in-store digital technologies. Their Scentsa touchscreen kiosk allows customers to interact with a multitude of fragrances while their Skincare IQ kiosk offers a similar personalized experience. Both of these touchpoints offer customers the ability to navigate products, and leads them to purchase decisions based on their specific needs and preferences.
Five lessons your company can learn from an immersive retail experience.
Regardless of your business or your customers (B2B, B2C or anywhere between) there are many lessons you can learn from the best practices of the leaders in retail, and the immersive, digitally-enabled experiences they deliver. Here are five of them:
Make connections where your customers want them (even when they don't realize it yet). Sephora's fragrance and skincare counters aren't simply for browsing. They're a source of information and guidance across the customer relationship lifecycle. Customers want to take control of their experience, but are typically limited by what brands are offering in-store. No more.
Make digital part of the customer experience, not an accessory to it. All the digital screens in the world aren't going to save your company from lagging behind. Your customers have already made digital technology part of the shopping experience with smartphones and tablets. Have you?
Remove all obstacles. The interactive mirror greatly reduces the need for fitting rooms, eliminating the lines and much of hassle associated with trying on clothing and narrowing down shopping choice. What's more, customers spend less time scouring the racks for the style they're looking for. What are your industry's pain points? Identify them, and eliminate them.
Use technology to establish an emotional connection with your customers. Macy's leveraged the Levi's Denim Bar – a large interactive screen display – in the kid's department which allows customers to browse the various styles and take pictures with a digital photo booth. Kids are engaged and happy – connecting parents to the brand, and improving their experience.
Integrate customer service and technology (instead of depending on it to answer all customers' questions or concerns). You still need your employees to develop customer experiences that meet every need. Even Sephora's highly rated digital system was hampered by sales assistants who were misinformed about the technology. Remember: when it comes to delivering stellar customer experiences, the elephant in the room is people.
Again, we see that the leading companies in every industry – including retail, where most leaders are already expert at delivering great customer experiences – are leveraging digital innovation to better meet customer needs in an omni-channel world. Imagine the opportunities to lead the competition in your industry.
If you take these lessons to heart, you won't need a magic mirror to see a very successfully future…