Customer experience leaders are documented to have greater top- and bottom-line growth than those who haven't made customer experience transformation a priority. For those who have made CX a priority, the customer and business imperative to effectively transform the customer experience is this: focus on digital transformation to enable and consistently deliver "digital-first but not digital only" multichannel experiences.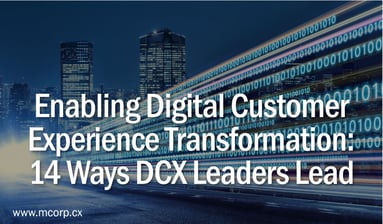 This means, in part, that to get the business value out of digital transformation, you shouldn't focus on it without a parallel customer experience transformation effort.Those organizations successfully engaged in digital transformation are most often focused on doing so in three core parts of their business: their customer experiences, operational processes and business models.
Here are 14 — of the many, many — things you can learn from these digital customer experience transformation leaders:
1. Continually keep the customer in mind. It's far too easy and common to take your eye off the customer when focused on digital transformation. So consider this a reminder: It's crucial to ensure that your decision making is informed by relevant data about your customer, including operational, perceptual, behavioral and business value insights.
2. Personalize your customers' experiences. Not only do personalized experiences boost revenue and loyalty, but customers also increasingly expect them. "Intelligent personalization" increases relevance and engagement, thus delivering better experiences in the process. Through a deep understanding of each customer, rather than just all customers, personalization provides unique benefits most competitors won't match.
3. Embrace and manage change. The reality is that few companies are able to comfortably keep pace with technological change. A major component of success is driven by culture. Cultures built to embrace change and enable adaptation and adoption will most successfully manage their digital transformations. So weave a love of change into your culture to help your organization keep pace with technology.
4. Gain and maintain internal alignment. Key stakeholders across the organization must align around where you're going and why, or digital customer experience transformation won't happen. So do the legwork. Get buy-in. Be clear about objectives. Communicate progress. Ensure expectations are set and met, and minimize surprises.
5. Eliminate silos across your business. Customers expect to interact seamlessly across channels, departments and groups. But most companies aren't built this way. Now's the time to radically improve performance, simplify internal processes, integrate insights and data sources and change how you deploy initiatives across your entire business.
6. Accelerate your 'speed to insights.' Customer-centric businesses thrive on customer-centric insights. They require fast, informative insights in near-real time, across multiple areas to help drive decision making. While traditional marketing research remains important to understanding customers, adding sources such as voice analytics and behavioral data into the mix lets businesses get closer to their customers, faster.
7. Prioritize and digitize relevant customer journeys. When a customer interacts with you on their phone or another device, they (and you) are experiencing a digital customer journey. By leveraging customer thinking and agile methodologies, you can prioritize the most important journeys to digitize, bridging gaps between systems, silos, processes and people, to smooth the journey and maximize the value of their time and business.
8. Enable seamless, omnichannel customer experiences. Taking the delivery of seamless interactions one step further, customers increasingly expect to start a transaction in one channel and seamlessly continue in others. These omnichannel experiences give customers the ability to transact on a website, move to a call center or chat function, switch from a desktop to a mobile device, and even walk into a store without having to start over.
9.Integrate and digitize processes. Organizations have been digitizing manual processes for decades. To deliver interconnected experiences and seamless interactions across platforms, devices and channels, standardize, simplify and enable integrated process flows aligned to customer wants and needs.
10. Let customers interact on their preferred device. Customers have the choice of using multiple devices to engage with your organization today. Recognizing that any given customer may choose desktop, voice, mobile or others at any given time, digital transformation needs to plan for customers changing preferences and expectations.
11. Align key performance indicators to desired business outcomes. It makes no sense to begin a digital customer transformation effort unless you're able to measure business impact from it, hence the criticality of linking KPIs to the outcomes of your efforts. This means tracking and analyzing impact on your process, financial, customer and workforce-related measures, and leveraging a defensible and extensible metrics framework to manage everything.
12. Assess your customer experience operating model. At its core, digital customer experience transformation is essentially a business model improvement activity. Put the customer at the forefront of your transformation by optimizing people, processes, technology and data across your customer journeys. You'll help ensure a future-proof, innovation-driven, customer-centric (and perpetually improving) customer experience operating model.
13. Think by design. Simply put, design thinking is customer thinking, an
""outside-in" "" approach to understanding what customers want and need, and how these align to the ways you design and deliver products, services and experiences. As a result, the problems you choose to solve and how you solve them will be driven by their desirability to customers.
14. Keep it human. In general, customers tend to prefer digital channels as a first point of interaction — until, of course, they don't. When customers need to talk to someone, they need to talk to someone now. And when they do, that someone had better know who they are, what they're trying to accomplish and what their prior experiences were.
Transformation of any kind is a multi-step journey, and digital customer experience transformation is no different. But as daunting as it can seem, getting started isn't always as difficult as you think. Take another lesson from organizations successfully engaged in digital transformation: Start small, stay focused and move quickly. Learn from your successes and failures, and take the next step. While systematically delivering great customer experiences is a never-ending journey, the rewards are significant and measurable.