Published November 19, 2019
What exactly is a customer experience strategy? Spend any time online trying to answer this question and you'll see how easy it can be to become overwhelmed with well-meaning but (in some cases) radically misinformed customer experience strategy definitions.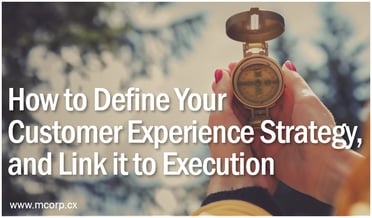 The issue isn't that the answers aren't out there–they are. But, as the saying goes, it's hard to sort the wheat from the chaff. Among other things, it isn't the same as customer service. It's not part of a holistic customer journey strategy. Nor is it the same thing as customer experience (CX).
What it is is a framework for bringing your customer experience vision to life. It's a way to help your company systematically make decisions that allow you to consistently meet and exceed customer expectations.
Where does customer experience strategy fit?
At its core, your CX strategy–and the CX vision that it enables–enables your organization to deliver on your experience aspirations across all aspects of your operating model. And all of this is in service to your business strategy.
Simplistically, your business strategy is your plan for achieving your vision, and optimizing your financial performance within the context of your business model. It's what drives your economic engine and helps you prioritize and compete more successfully.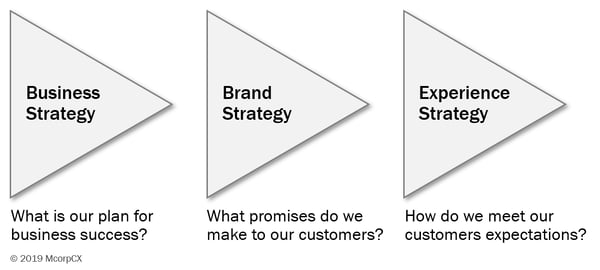 Your brand strategy, on the other hand, describes what you stand for and informs how you position, communicate, and compete in the market. Successfully executing on your brand strategy helps you to achieve the goals set forth in your business strategy. It makes explicit promises to your customers and sets expectations of your brand and what it means to them.
And this is where CX strategy fits. In brief, it's your plan for fulfilling the promise your brand makes to your customers, for meeting customer expectations of your brand, and for doing so consistently across all aspects of your business.
Creating a CX strategy: Your plan for serving and meeting the expectations of your customers
Customer experience strategies can of course encompass many different things and be defined in many different ways. It can be deep and wide, or as simple as a defined vision of the experiences you wish to deliver and how you'll do so. It can be an organization-wide plan to shift culture and drive change or a back-of-napkin CX vision. You get the idea.
But, in our experience, successful CX design and delivery–done consistently and systematically at scale–is best served by a robust strategy that extends to and is tightly linked with CX activation, execution, and management.
1. Vision: Articulating the experiences you plan to deliver.
To ensure a shared understanding of who you serve, can you describe and prioritize customer groups and target segments?
What are the kinds of experiences you wish to deliver to these customers?
How do you want them to feel after they interact with your organization?
Where can you link the ways experience ties to business goals (e.g. focusing on emotional attributes that correlate with purchase and advocacy)?
2. Activation: Guiding your people, systems, processes, and activities.
Knowing who you serve and how you want them to feel, how can you consistently deliver against this?
How should your people behave and what characteristics or attitudes should they display?
What's your roadmap for implementation and ongoing improvement?
3. Management: Informing the prioritization and use of your resources.
How do you ensure you're focused on the right things–and prove it?
Given your desired customer experience, how do you best allocate resources to design and deliver it?
How do you plan for, prioritize, and rationalize the value of CX investments?
How do you ensure–and report back on–your progress and achievement of desired outcomes?
These are the major components we've seen (and helped to articulate and activate for some of the largest technology, financial services, and retail companies, among others) drive internal change, boost market differentiation, and accelerate time-to-value on customer experience investments.
No matter what your aspirations for customer experience may be, one thing is certain:
Without a strategy for bringing that experience to life, and managing it over time, the chances are exceedingly low that you'll be able to consistently deliver on customer expectations of your brand.
Which means that without a customer experience strategy, the chances of losing your customers to the competition are exceedingly high.