Published October 18, 2012
Why is customer experience improvement such a hot topic? Because it significantly drives revenue. Directly tied to increased customer loyalty and a proven driver of top- and bottom-line revenue, it's no surprise that 93 percent of executives state that customer experience is critical to their business strategies.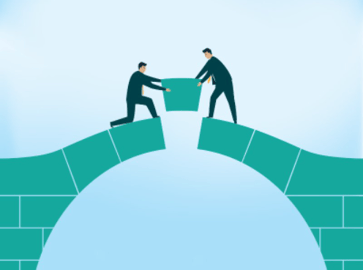 Customer experience improvement requires wide-ranging organizational change. It requires all areas of a business to "play nice"–sharing data and customer insights across internal silos, business units, and channels. This means the executive suite, sales, and customer service all point in the same direction. That marketing and e-business have a shared view of the customer, and that employees are rewarded for giving customers what they want.
There is a huge disconnect between internal and external perceptions. In an oft-repeated statistic, a Bain & Co. report ("Closing the Delivery Gap") found that 80 percent of companies are confident that they are delivering a "superior experience" to their customers. But when customers were asked what they thought, only 8 percent of them agreed.
So how do those winning companies–those "top performers" that recognize the complexity and urgency of getting customer experience right, and do so–get there? Simple. They turn to outside experts for strategic guidance to build their internal competencies.
Benefits Of Bringing In Customer Experience Experts
Since the path to customer experience transformation is a new one, many companies lack some core expertise as they begin the multiyear journey. That's why a framework for assessing and improving customer experience is so important, and a key reason why companies need help with customer experience transformation.
In fact, according to Gleanster research, 76 percent of top performers turn to outside professional services experts with specialized customer experience expertise, in areas ranging from strategic guidance and customer data analysis to benchmarking, program management, and business case development. These customer experience leaders turn to outside experts for:
Customer experience transformation expertise: Internal customer experience teams know their businesses incredibly well, but often lack the know-how required to set customer experience strategy, prioritize initiatives, build cross-functional support, or design the products, services, and experiences needed to drive transformation efforts.
Additional manpower: Most internal teams are relatively small, with a handful of members dedicated to improvement efforts. As a result, they often lack both the manpower and expertise across core supporting disciplines, such as employee and customer research, data analysis, customer insights, road map development, and customer journey design.
Third-party objectivity: Not only are third-party experts better versed in the methodologies and analytical processes that allow them to see and understand customer experience-related issues, they're also better positioned to objectively identify and prioritize issues and opportunities. And even when internal teams see these same patterns, the ability of the right outside party to present findings and recommendations is often seen as more credible and impartial to executives.
Consider the fact that 75 percent of all companies are trying to differentiate from their competition based on customer experience, and you quickly recognize one thing: Not everyone can win this race.
When it comes to leading the market in customer experience, there's a sprint to the finish line–in virtually every industry. Why? The answer's simple. Those that get there first have the best chance of winning the "customer experience differentiation race," leaving competitors to play catch-up.
And it is a race; the ways customers interact with and think about the companies they do business with is changing dramatically. In many cases, these changes are happening faster than companies can assess and adapt to them. From smart customers to smarter touchpoints, the landscape is quickly shifting. In this world, starting the customer-centricity journey is an imperative.
Winners in all areas of competitive endeavor realize that the fastest way to win is by working with a coach. When it comes to improving customer experience, it's no different. In next week's post, we'll share where these winners turn–and what your firm should look for if you decide to, too.