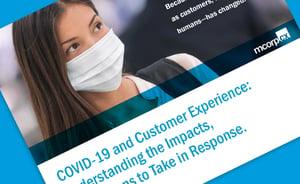 COVID-19 has upended life as we know it. Perhaps the only thing more frustrating than being stuck "sheltered in place" is the fact that no one seems to agree on when we'll regain normalcy, how that will happen, or what businesses can or should do to respond and prepare.
While there are no one-size-fits-all answers, our new whitepaper COVID-19 and Customer Experience brings together insights from top minds in medicine, business, economics, and sociology.
In it, we've tried to answer some of the many COVID-19 and customer experience-related questions our clients have been asking, such as:
When and how is this likely to end?
What is (or will be) the impact on our customers and on our business?
Is there anything we can or should do now?
What does this mean for customer experience?
Addressing these questions and others, this whitepaper offers insights, strategies, and actions for business leaders as you contemplate how to address changing customer expectations in what has quickly become a very different world for us all.
Complete the form to download your free copy now.
No mistake about it—it's a challenging time. But the experts agree—and human history proves—that we will get through this and that we're up to the task of tackling today's challenges with resilience and flexibility.