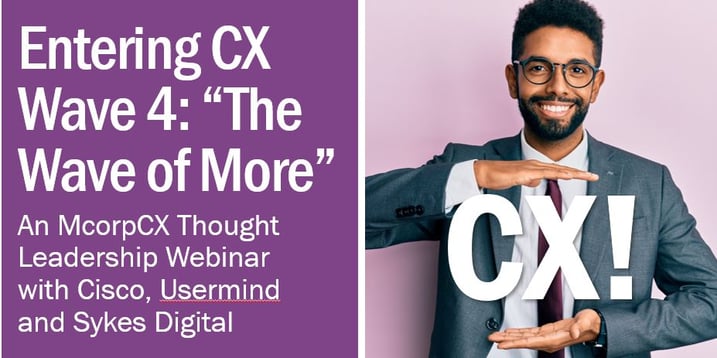 Modern Customer Experience (CX) is approaching its 20th birthday and going through its 4th major transformation. This is being referred to as CX Wave 4, or "The Wave of More." More ROI, more transformation, more speed, more personalization, more audiences, and more impact. In short, more of nearly everything.
Join 4 leaders of the CX Wave 4 movement including Cisco, Sykes Digital, McorpCX, and Usermind, as they discuss the most important experience-driven trends you need to be paying attention to in 2021 and beyond. Among other topics, they'll be discussing:
Why Wave 4
CX Wave 4 trends
How they will benefit you
The benefits of doing something - and the dangers of doing nothing
What best practice leaders are doing now (and you should do, too)
REGISTER NOW to join us Thursday, March 18th at 11 am PST / 2 pm EST to learn what CX Wave 4: The Wave of More means for your business.

You'll be hearing from:

Graham Clark - VP Market Development, McorpCX

Michel Feaster - Founder & CEO, Usermind

Michael Gravel - Global Collaboration Lead, Cisco

Steve Gush - VP Global Digital Solutions, SYKES Digital
Reminder: REGISTER NOW!
We hope to see you then!