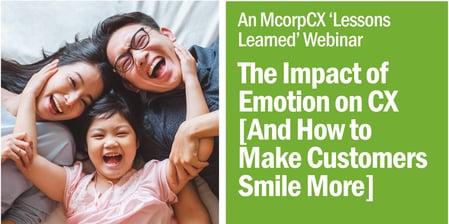 We—and our customers—should smile more often. Not only does logic dictate that we feel good when we do, but science backs this up as well. Why? Because the smile is a visible symbol of our positive emotional state.
This reflects a significant challenge that many organizations have when it comes to improving customer experience (CX). While many are getting better at "belt and suspenders" CX improvements like identifying pain points and reducing friction, understanding how to identify and improve emotion is a much harder task.
If your customers have ever been frustrated or upset by interacting with your firm – and you'd like to turn those frowns upside down – then you'll want to download this webinar. Some of the things you'll learn include:
How emotional resonance creates differentiation and why it's such a powerful competitive advantage
Who Robert Plutchick is and why you need to know about his "wheel of emotion"
The optimal metrics framework for measuring emotion
How to build an "emotional journey map" and use it to drive change
Proven and evolving tools and techniques for helping customers smile more
After all, there's one thing everyone can agree on: It feels good to feel good. And as important as this is every day, today it's more important than ever to do a better job emotionally connecting with our customers.
So, listen to McorpCX's founder and president, Michael Hinshaw, and our VP of CX Transformation Programs, Jonathan Greenwood, for Lessons Learned: The Impact of Emotion on the customer journey (And How to Make Customers Smile More).
Fill out the form – to access the recording and slides.

Jonathan Greenwood – Certified CX professional and VP CX Transformation Programs for McorpCX.

Michael Hinshaw – McorpCX founder and President, best-selling author and top-ranked global customer experience thought leader.