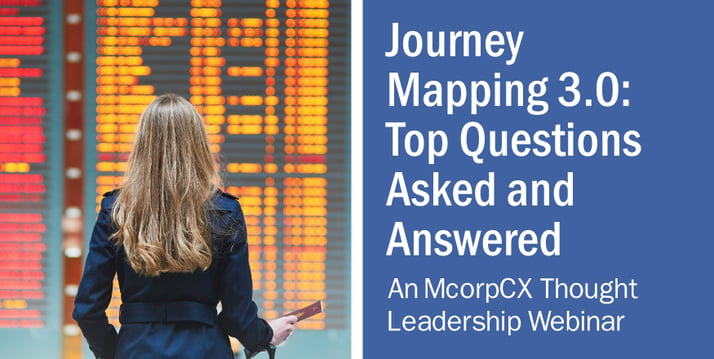 Today, close to 75 percent of CX teams use customer journey maps.
Journey Mapping enjoys wide-spread adoption because it helps identify opportunities to close experience gaps, boost loyalty and revenue, and reduce costs.
This focus on value is a key reason they continue to gain traction as an experience design and creation tool; the best maps highlight where to focus resources to get the greatest returns.
Unsurprisingly, the discipline of Journey Mapping continues to mature and evolve—which is why we think you'll enjoy our webinar, Journey Mapping 3.0.
Fill out the form to download the recording and slides.
In this webinar you'll learn:
How innovators use future state mapping to drive growth
New agile techniques for journey-related customer and employee research
How to use journey mapping as change management tool
Where to focus to drive insights on new, digital-first experiences
And more!
We'll be sharing the latest and greatest ways to maximize the value, efficiency, and impact of Journey Mapping on your organization.
You'll hear from these leading CX and training experts:

Michael Hinshaw - President and Founder, McorpCX
Michael is a best-selling author on digital transformation and CX and has on over a dozen "Global CX Thought Leaders" lists. He's also a Teaching Fellow at UC Berkeley's Lester Center for Entrepreneurship and Innovation at The Haas School of Business.

Daniel Roundy - Design & Innovation Practice Leader, McorpCX Daniel is a customer experience focused entrepreneur. He has nearly two decades of experience helping organizations solve problems and improve performance by focusing on their customers.