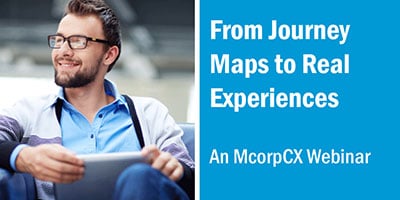 Does your organization have customer journey maps? If so, you'll want to access the presentation and view this on-demand webinar!
In it, Michael Hinshaw, Founder and President McorpCX and Stephen Shay, Vice President McorpCX, are joined by special guest Vanessa Valore, The Institutes Assistant Vice President of Strategic Marketing, for a webinar where they share practical advice on how to use the outside-in customer (and employee, and partner, and...) journey maps you have created.
Listen and hear their perspectives on:
• Top 'journey map activation' challenges, and how to resolve them
• How to more effectively use journey maps across your organization
• Why communication is better than 'socialization'
• How to bring your journey maps to life with tools and data
• Ways to show the value (results and ROI) of your journey mapping work
If you use journey maps, you know they are powerful visual summaries of the outside-in perspective. They allow you to walk in your customers' shoes to see what they're trying to accomplish, the barriers they encounter along the way, and see specific opportunities for improvement.
You may also know that journey maps don't always drive desired changes to the experiences your customers have. So if you're interested in bringing your journey maps to life and driving real impact in your organization, this webinar is for you.
Complete the form at right to watch the From Journey Maps to Real Experiences webinar on-demand!
---

Vanessa Valore: The Institutes Assistant Vice President of Strategic Marketing. The Institutes is a 501(c)(3) organization that provides educational support, resources and leading research to help those in risk management and insurance better serve the public.

Michael Hinshaw: McorpCX Founder and President. Michael is recognized by leading analysts as a digital transformation and customer experience thought leader and has been named to over a half-dozen "Global CX Thought Leaders" lists. He's also a best-selling author and a Teaching Fellow at UC Berkeley's Lester Center for Entrepreneurship and Innovation at The Haas School of Business.
Stephen Shay: McorpCX Vice President. Stephen is a senior technology and customer experience strategist who leads the firm's Customer Experience Management maturity and capabilities practice, as well as many transformational client initiatives. In his previous role as a Microsoft executive, he built and led the Connected Customer Experience (CCE) practice, a cross-company CX Center of Excellence and advisory group.