VoC Program Recorded Webinar
Watch this recorded webinar to learn how implementing Voice-of-the-Customer tools can drive your customer strategy and provide a roadmap for optimal customer experience management.
Why voice-of-the-customer tools and customer understanding are key to any customer strategy—and best-in-class customer experience management.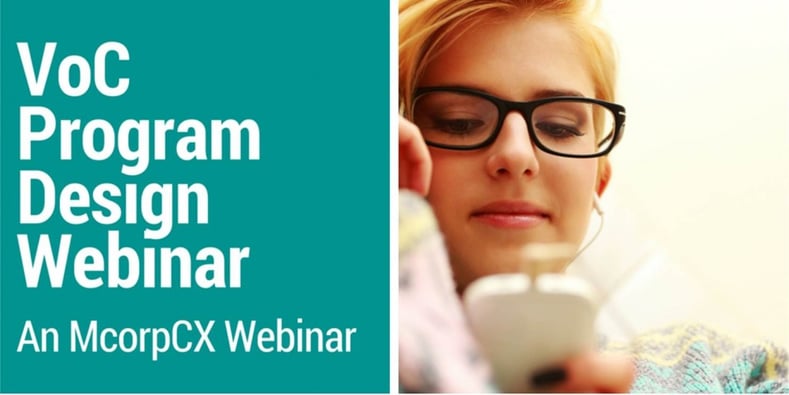 The first step towards improving your customer experience is to listen to your customers. Taking an outside-in approach to guiding your customer experience program roadmap ensures your customers' voices are heard, and their feedback is integrated into your plans.
This is where your Voice-of-the-Customer (VoC) program comes into play. It is a clearly defined plan for systematically gathering, interpreting, reacting to, and monitoring customer feedback, often leveraging listening tools already in place. It transforms random customer data into in-context information that can flow into and through your company in ways that inform decision-making and drive cross-functional stakeholder action.
Interested in finding out more about how to design your VoC program? Join McorpCX president and CX thought leader Michael Hinshaw in our recorded webinar covering:
An overview of VoC programs and why you must have one – IF customer experience is a priority for your organization.
A study of the six components of best-practice-based VoC programs.
Why customer understanding and measurement are driven by your ability to listen to your customers and take action on what you learn.
How voice-of-the-customer tools can help (or hinder) your aspirations to design and deliver exceptional customer experiences.
Case studies of the success of organizations who have effectively implemented a VoC program.
Suggestions on how you can implement a VoC program at your company.
Complete the form to watch Michael Hinshaw as he explores the many ways an effective Voice-of-the-Customer program can support your customer strategy, and position your organization for customer experience success.