Recorded Webinar: VoC and VoB, Meet VoA
How NextGen Voice-of-Analytics Tools are Transforming Customer Insights, and CX ROI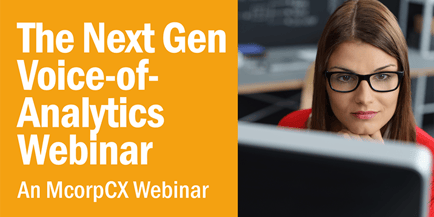 Despite the continually accelerating pace of digitally-led disruption, most "Voice-of-the-Customer" (VoC) programs still rely primarily on email surveys to learn what their customers say, while "Voice-of-the-Business" (VoB) brings internal perspectives into the equation.
The missing link? What customers actually do.
Here's where NextGen Voice-of-Analytics (VoA) fits in. By adding VoA to the mix, brand marketers and customer experience (CX) leaders get customer understanding (and measurable ROI on their listening investments) at levels never before available
In this fast-paced, expert-led webinar, you'll learn how to integrate VoC, VoB and VoA to solve your business problems by understanding and meeting customer's needs in new ways.
Dive into the potential of modern, digitally-driven customer insights to learn:



Where the intersection of traditional customer insights and NextGen Voice-of-Analytics tools can transform marketing, sales, CX and Service ROI

How next wave Voice-of-Analytics insights are being used to boost marketing ROI from 60 to over 500 percent

Why anonymous behavioral data is the next wave of Voice-of-Analytics

Specific ways that trillions (yes, with a 't') of data points can drive real time, truly actionable and easy-to-understand insights

How leading brands have leveraged VoA to boost brand loyalty, plan expansion into new markets, convert shoppers to buyers, and more
Hear Michael Hinshaw, best-selling author, Top 20 ranked global CX thought leader and founder of McorpCX, and Harry Maugans, President of Clickagy, share how CX and business leaders are leveraging NextGen customer listening to drive transformational results for companies of all sizes.