Customer Experience Strategy: 'North-Star' Vision Development Playbook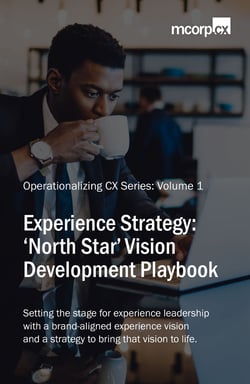 Setting the stage for customer experience leadership requires several foundational elements. A brand-aligned experience vision and a strategy to bring that vision to life are two of the most critical elements, in part because they help align your people around what "customer experience" means to them.
Developing a vision and strategy for customer experience can be difficult—if you don't know where to start. The good news is that there's a proven path to success, and this playbook will share it with you.
If you've ever thought about ways to make customer experience "real" in your organization or struggled with how to better focus on it, then you'll want to fill out the form at right to download your free copy of Experience Strategy: The 'North-Star' Vision Development Playbook.
Some of the things you'll learn in this playbook include:
What CX Vision and Strategy is—and what it isn't

How customer experience leaders leverage their CX Vision and Strategy

How to align your business and brand strategies to your CX Vision

When to (re)asses and (re)define your CX Strategy

How CX Strategy helps enable and activate a customer-centric operating model

The 6-step plan for defining and bringing your experience to life and measuring the results
The playbook also details important questions to ask and actions to take each step of the way, equipping you to get started and to drive success—on your terms, at your pace, and aligned to the appropriate level of resources and commitment.
Simply fill out the form to learn why a North Star customer experience vision is critical, how creating one drives organizational focus and effectiveness, and how to measure—and value—the results.