Establish an agile VoC approach leveraging best practices and real-world experience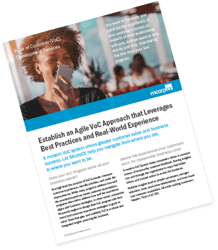 While all VoC programs focus on how well an experience meets customer expectations, many fall short in the area of addressing how well the customer experience aligns with business strategies. To truly evolve a business, a Voice of Customer program must align with a company's brand and CX strategies and goals.
Close that experience / strategy gap, and suddenly VoC is a robust and integrated engine powering the business. And when reliable insights lead to simpler processes, stronger retention, more productive relationships, and even lower cost customer acquisition...all while making customers happier...you've achieved an ideal VoC ROI.
McorpCX views its VoC services as an agile program lifecycle, that builds VoC system maturity and extends the power of its reach within an organization.
What kinds of VoC services do we offer to achieve that?
PLAN: Assess current program maturity, blueprint the future, and roadmap how to get there

DESIGN: Architect and define in detail how the new program elements will work (Including technology selection, to fit your organization and your needs)

BUILD: Rapidly launch or scale a robust and effective VoC program

DEPLOY: Education, training, and other change management services to maximize organizational buy-in and time-to-value

OPERATE: Operation and maintenance services to ensure outcomes and free up your team
Gain confidence in your VoC and XM investments, and see how we can help you navigate from where you are, to where you want to be. To learn more, download our VoC Development Services Sheet.