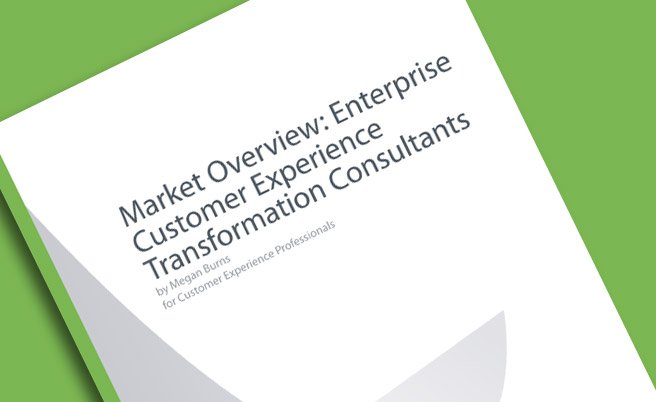 Forrester Research, Inc.
Companies need help with enterprise customer experience transformation.
McorpCX was one of the 15 customer experience transformation companies included in the Forrester Research, Inc. report, "Market Overview: Enterprise Customer Experience Transformation Consultants," authored by analyst Megan Burns.
Forrester scanned the market for companies offering enterprise customer experience transformation services and found two types of providers: management consultants and boutiques. All of the 15 vendors interviewed help companies build an initial customer experience transformation road map, and some also execute key steps in that road map like employee training, process redesign, and IT systems implementation.
McorpCX is identified as a boutique consulting firm with a focus on defining customer experience strategy, building support for customer experience efforts, creating transformation roadmaps and measuring the business impact of customer experience.
More information on the Forrester Research Inc. report is report is available here.
"We approach customer experience improvement from a strategic perspective," says Michael Hinshaw, President of McorpCX. "We see that the ways customers interact with and think about the companies they do business with is changing dramatically. In many cases, these changes are happening faster than companies can assess and adapt to them. That's why a framework for assessing and improving customer experience is so important, and a key reason why companies need help with customer experience transformation."
McorpCX's proprietary research, analytical and strategic methodology for improving customer experience – Touchpoint Mapping® – provides this strategic framework, giving McorpCX clients the tools to:
Understand and segment customers, by wants, needs and value;
Gather "outside-in" perceptions of experience from employees, customers and the market;
Build internal support for and understanding of customer experience efforts;
Define customer experience strategies;
Create implementation roadmaps for experience transformation;
Implement customer experience strategies;
Measure the business impact of customer experience over time.
McorpCX's approach is based on the recognition that customer experiences are built (or destroyed) one interaction at a time, over time – at the touchpoint level. And as these touchpoints become increasingly digital, increasingly interconnected and increasingly controlled by customers, the importance of a cross-channel customer experience strategy increases as well.
If you'd like to speak with someone at McorpCX, please reach out!