Chris Williams had a problem. Concerned that he was the victim of a phishing scam on his Amazon account, he reached out to resolve the issue before a real problem occurred. Surprisingly, the biggest problem turned out to be Amazon's customer service rep.
What?!? Amazon, you say? We ALL know they're the best (or one of them) when it comes to delivering consistent, efficient and friendly customer service. Sadly, even the most customer-centric businesses can fail to provide positive customer experiences at times. The truth is, if Amazon can end up with a viral negative customer service story, it can happen to anyone.
The point of this article is that even great companies need great people (and systems) to consistently deliver great experiences. And sometimes, things go bad.
My Name Isn't Brittni. I'm not a 'Ma'am.' (And you're no Farah).
When Mr. Williams discovered someone was attempting to use an email address nearly identical to his own on his account, he engaged with Amazon through the preferred channel of millions: live chat.
If you're in the business of delivering customer service, you need to know that customers are turning to chat with growing frequency. Over the last 3 years, the number of people using live chat for customer service increased from 30 to 43 percent. In fact, online chat is now a close second to telephone customer support (63 vs. 69 percent customer satisfaction).
This growing preference means that your customers have developed expectations regarding online customer support. And based on a quick read of Chris's chat transcript, it's pretty clear that his expectations weren't met. Amazon dropped the ball.
From this, it's clear that Farah wasn't empowered, instead clinging to a hilariously inadequate script. Not only could she not get her head around the fact that Chris was Chris (not Brittni), and that he was a he, Farah didn't have the capability to solve Williams' problem, and was neither able to veer off script to address the issue or find someone who could provide an answer within a reasonable amount of time.
Mayday! Mayday! (Why Great Customer Experience Must be Consistently Delivered Across Channels).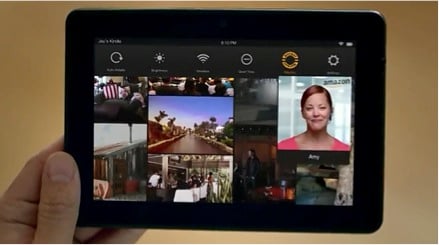 Customer experience is all about customer expectations. When met or exceeded, the experience is good. If not, the experience is bad. If Mr. William's watched the commercial for Amazon's Kindle Fire "Mayday" button, it's easy to see why he'd be really upset at his reality vs. the promised experience, where the touch of the e-reader's screen brings up "Amy" – a cheerful live online agent, only too happy to solve all your problems.
Even though the ad is clear that Mayday is "only available on the new Kindle Fire HDX", that's a distinction that will be lost on many. For most of us, Amazon saying it has awesome live chat means just that. Wherever we are, however we choose to connect. They must deliver on that promise across all channels, or risk failing to meet customers' expectations.
When any company establishes a benchmark for live customer support – particularly a benchmark as bold and full of promise as Amazon's Mayday button – they'd better live up to it. To your customers, that's a promise.
Just How Smart do Your Customer Service Reps Need to Be?
Great experiences come about as a result of understanding your customer and employing reps who are able to show they understand and value your customers. Yes, it would be nice if someone as engaging as Amazon's fictional Amy was at our beck and call, every time we had a customer service problem.
But even if you don't have the ability to deliver live chat at that level, there are a few things any company can do to improve customer service:
First, your employees need a clear understanding of the customer experience you've promised, and expect to deliver, to your customers, and they need to feel empowered to deliver it.
Second, they need the knowledge, tools and authority to 'make things right' or very quickly get to someone who can. Sometimes, that means going off script. Which brings us to the third point…
No matter how well educated and empowered employees are, you have to hire the right people –and in this case, the real problem was probably the HR manager who let "Farah" ever touch, much less pick up a keyboard on Amazon's behalf.
Which points to another problem; Farah just isn't that smart. (Of course, it's also possible she was having a REALLY bad day – Mr. Williams doesn't come off too well either, to be fair). Which points to a major issue when it comes to delivering excellent customer experience: the importance of hiring and training the *right* people for the job.
Because sometimes, good service can start with something as simple as a customer service rep who can figure out if your customer is a "Ma'am" or a "Sir."
This blog originally ran on CMO.com, where Michael Hinshaw writes the weekly "Get Customer-Centric" blog.