For gadget geeks and futurists, 2013 looks like one heck of a year—the dawn of wearable computers.
In fact, between speculation about the Apple iWatch and the Q4 launch of Google Glass, it seems we're only months away. I'm 80 percent excited, 15 percent skeptical, and 5 percent creeped out by the idea of glasses that record video.
Nevertheless, it's time to think about what all of this means. Connected technology is about to be freed from pockets and purses. And that change comes with a slew of interactive possibilities. But companies are going to have to relearn, again, what they know about customer and user experience to succeed in this world.
'Back Up A Second--Wearable What?'
Computers. Tiny computers and sensors that you wear under, over, or that are even part of your clothes. From a watch that connects to your mobile phone to a pair of glasses with voice-activated commands and a digital display, wearable computers take the amazing things that your phone, tablet, computer, and camera do and make them instantly accessible.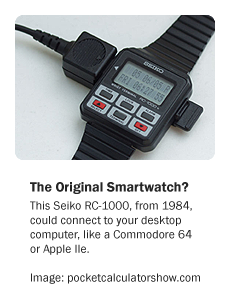 These aren't entirely new ideas. In the '80s and '90s, Casio pioneered an early smartwatch. Those bulky calculator watches you saw from time to time were part of the "Databank" line that also managed contacts, calendars, and more. Seiko had a line of data watches that could connect to your desktop computer nearly 20 years ago. And Recon Instruments has been making smart ski goggles since 2008.
What's different now is even broader acceptance by millions of smart customers around the world with a huge appetite for right-here, right-now access to information and data, driven in no small part by the $25 billion app economy.
Designing Digital Experiences For Wearable Devices
No matter how "cool" a new technology is, customers want you to remove complexity from their lives, not add to it. Sadly, few companies seem to understand this. If they did, then they'd look at the experience through the eyes of their customers.
When it comes to wearable devices, not looking at the experience from the outside-in would be a mistake. A big one. To prove the point, let's look at two dominant patterns of mobile interaction and see what happens when they're copied to wearable devices:
1. Push Notifications: Push has arguably been the biggest driver of engagement and stickiness in mobile apps. It was transformational. But will pairing push notifications with wearable devices net similar results? Probably not.
Imagine a sudden jolt on your wrist or a flash of text in your peripheral vision. Oops! Push notifications on wearable devices has the potential to be incredibly disruptive (in a bad way). So what's going to be the new engagement driver in this space? You can be the one who decides.
2. Multitouch: This example is a little more obvious, but even more important. If you have a watch attached to your wrist, then you won't be using two hands to interact with it. If the screen has one-fifth the surface area of an iPhone, then you won't have much room to swipe, pinch, etc. For obvious reasons, the touch interface on Google Glass will be nothing like a typical mobile device.
If all of this sounds more like user experience (UX) than customer experience (CX), then you're right. But customers don't make that distinction. To them, it's all customer experience. So if you want to compete in this arena, then you have to really understand what your customers want and need to accomplish—not just what they canaccomplish.
Applying The Forces Of Disruptive Innovation To Wearable Computers
In Smart Customers, Stupid Companies, we wrote a lot about the four forces of disruptive innovation that we believe will have the greatest impact on the relationships between customers and the companies that wish to serve them.
These forces include social influence, pervasive memory, digital sensors, and the physical Web. And I'm not sure there's a scenario where these converge more than wearable computers. Consider these examples:
Social Influence: Google Glass is an inherently social product. It lets you share first-person experiences in the most organic way ever. You can broadcast exactly what you see with nothing to filter or encumber it. Is there a more impactful way for someone to share your company's customer experience?
Pervasive Memory: Big data has always had big potential for improving customer experience (history recall, better customization, etc.). Wearable devices provide a platform for delivering memory-enhanced experiences, whether it's directly to customers or by enriching your employees' customer interactions with real-time data that doesn't require looking at a computer screen.
Digital Sensors: Digital sensors are one of the more established factors in the wearable space. Heart-rate monitors have transmitted data to watches for ages. More recently, Nike and Adidas have made major advances in sensors that guide and improve athletic training for their customers. This is just the beginning, though.
Physical Web: Wearable devices, especially glasses, will be a huge breakthrough for augmented reality. Imagine your customers walkiing through a retail store and seeing reviews or specs on a product just by looking at a bar code. They could get a pop-up map guiding them to a specific part of the store. You could even use a timely, in-context promotion to help close a sale.
Yes, this all sounds a little bit like science fiction. But don't forget—none us had any idea we couldn't live without a smartphone until we had one.
What's going to happen when our clothes get smart, too?